Meet the Team Photos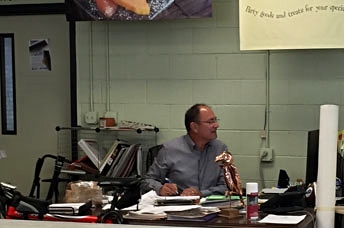 Bill Reason - President
Bill purchased Certified Lighting in 2003. After recognizing the direct connection of lighting and signage working together; he acquired Professional Sign Services, formally known as Graphic Works, in 2012. He is from New Orleans and attended the University of Louisiana Lafayette where he majored in Computer Science with a minor in Business. Bill likes living in Chattanooga because he thinks it is one of the finest towns to raise a family. He also enjoys the community involvement behind the town and the diversity.
Bill is married to his wife Kim and has four children. His also has three additional members of the family: two dogs named Tucker and Boo and a cat named Norman. When he isn't overseeing the PSS team he enjoys spending time at his farm. While at the farm he enjoys fishing, being on the Caney Fork River and taking care of his White Flat Bore Ford Pumpkins. Bill is a diehard Titans and Saints fan. He also enjoys following all aspects of collegiate and professional sports.
Bill loves his job because he gets to do something different daily. He also enjoys dealing with the most complex issues and finding the best problem-solving solutions for clients. Bill thinks the name of PSS relates ideally to how our industry is evolving. He thinks PSS will open the door to new business opportunities and better showcase all of our services to past and future clients.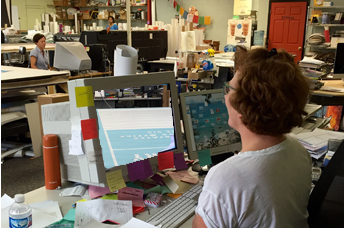 Roxanne Cockrell - Managing Partner
If you have done work with us before you know Roxanne! She has been in the printing and signage industry for over 25 years. Roxanne loves her job and working family, meeting all of our customers and finding solutions for every person who walks through our doors!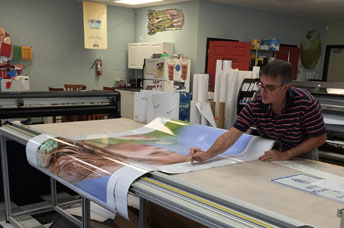 Emory Fry- Production Assistant
Emory has been part of our team since 1999. He has actually known Roxanne since 1987 when he was on the consumer side of the industry. He is our Production Magician and top problem-solver of the team.
Emory is from Signal Mountain, TN and went to UT-Knoxville where he acquired a Bachelors degree in Advertising. He then went to UTC to pursue his education and earned a Masters in Business Administration. Emory is married to his wife Jennifer and they have three children. When he isn't in the shop solving all of our "first world problems" he enjoys cycling and mastering his BBQ smoking and outdoor grilling. He loves living in the city of Chattanooga because it is a diverse city that is moving and evolving year after year.
What most people don't know about Emory is he is a home brewer. If he had to stick to one kind of brew for the rest of his life it would be a crisp Pilsner. Not only is Emory a home brewer he is also quite adventurous. He once parasailed behind a car when he was in college, sober. In the next five years he would like to make it to base camp of Mtn. Everest.
What he likes most about working for PSS is having the ability to utilize hands-on solutions for people. He thinks the name change to PSS is going to create less confusion in the customer's eyes and open up cross selling opportunities that utilize all of our services.
Contact
emory@graphicworksonline.com
Dana Trimble - Project/Account Manager
Dana has been a part of Professional Sign Services since 2012. She has been in the industry for 21 years. With her background in graphic design and photography, Dana adds conceptual and creative insights to the PSS team. She is a Signal Mountain native, but claims Greenville, South Carolina as her second home where she lived for 24 years. She loves Chattanooga for its creativity and how it is on the rise, innovative and full of community involvement.
When she isn't at work she loves spending time with her infamous, and adorable cat, Livingston. She claims Livingston has more dog-like instincts and one day hopes to get him out on the water where she enjoys her free time kayaking. Dana loves music both old school, new and especially live. She loves art and also likes to be outdoors doing any kind of activity from hiking, scuba diving or simply enjoying the beauty of nature.
Dana can officially say that she has been skydiving and dreams of having a sailboat and a piece of land on a Caribbean island someday. In the next five years she would like to take a trip to Bora Bora. In her next life she would like to be a musician who happens to also be a secret agent.
Her favorite part about her job is her work family at PSS. She also enjoys being able to meet and network with our clients. It is rewarding for her to see how they view the results of our work and the excitement they have towards the final product.
Contact
dana@graphicworksonline.com
Mark Walter- Project/Account Manager
Mark has been with PSS for just over two years. He is from Mt. Juliet, TN and earned his degree in Art Education from UT Chattanooga. Mark is married to his wife Paige and has a three-year old daughter named Avery. He enjoys living in Chattanooga because it feels like a small town that is very accessible.
When he isn't being our design king in the shop or #1 dad at home he enjoys building furniture, painting and drawing. Mark isn't just talented on paper, he also is a coffee connoisseur. At one point in his life he was a barista. When asked something to mark off his bucket list in the next five years Mark acquired the best husband award by answering how he wants to take Paige to Paris!
Mark thinks the name change from Graphic Works to Professional Sign Services will open the door for new and more opportunities. He thinks Graphic Works only expressed one facet of what we do as a company. PSS opens the door to all of our other capabilities.

Contact
mark@graphicworksonline.com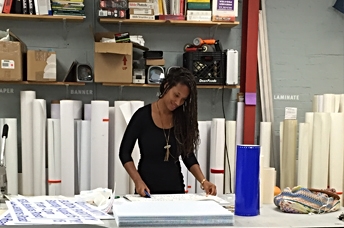 Ayesha Reynolds - Production Assistant
Ayesha is our production specialist! She has been in the industry for over 10 years and is our "secret weapon" when we need to pull more members of the team onto projects. She is a key asset to all of the production that goes on in the office!
Chad Moore - Operations Manager for Certified Lighting
Chad has been a part of Professional Sign Services and the Certified Lighting side of things since 2008. Not only does he manage the projects for Certified Lighting, he also has helped PSS with graphics installs and production. Chad is from Lookout Valley, TN and is a senior at UTC pursuing a degree in Industrial Engineering.
When Chad isn't eating, sleeping and breathing work he enjoys relaxing with friends and family. His favorite past time is lounging by the pool, watching and keeping updated on collegiate and professional sports. He also claims to be quite the Netflix watcher. In the next five years he would like to mark "running with bulls in Spain" off of his bucket list.
Chad's favorite part about being on the PSS and CL team is getting to experience the satisfaction in our customer's eyes after we help them with their needs. He believes the name change to PSS will let people know we are more of a full service sign and graphics company rather than just a basic graphics business.
Contact
chad@certifiedlighting.com
Katie Severson - Production Assistant
Katie joined the PSS team in August of 2015. She is a Chattanooga native and loves how the city has the nuances of a big city, but still has a backdrop of nature. She went to UTC where she gained a Bachelor of Fine Arts with a concentration in Graphic Design.
In her free time Katie likes to spend time with her cat named Butterfly and working on other art related projects. She also enjoys posting interests on her blog when she isn't being a production mastermind in the office. Most people don't know this, but we blame her incredible skills on her being left-handed. Within the next five years Katie would like to get away from American soil and go backpacking through Europe.
Katie loves her job because it doesn't require being behind a computer all day. She likes being able to physically make her own work and see the outcomes.

Contact
katie@professionalsignservices.com
Randy Teeters - Director of Digital Marketing and Business Development
We are happy to announce Randy Teeters will be our new Director of Digital Marketing and Business Development at Professional Sign Services and Certified Lighting Chattanooga Tennessee. Randy spent ten years in the US Navy, where he did three operational deployments in the Middle East. Being a combat disable service veteran, has allowed Randy to retire honorably. Since discharge, Randy has been an engineer for the renewable energy industry for solar and wind. Randy's hobbies include golf, Tennessee Vol's football and boating. The passion and background that Randy promotes, is why he is such a great fit to move Professional Sign Services and Certified Lighting towards the future. Randy looks forward to meeting our customers and continue the quality of service that has kept Professional Sign Services and Certified Lighting in the eyes of Chattanooga and the surrounding areas.